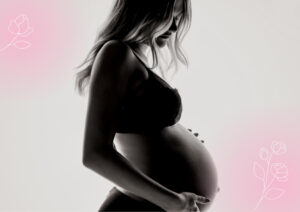 Pregnancy is a beautiful journey of transformation and new beginnings, and so is the journey of your skin during this precious time. As an expectant mother, you might be experiencing various changes in your body, including your skin. Understanding these changes and adjusting your skincare routine is essential to ensure the health and radiance of your skin during pregnancy. In this blog post, we will explore what happens to your skin during pregnancy, the importance of rethinking your skincare routine, and the skincare ingredients to avoid and embrace during this magical time.
Skin Changes During Pregnancy:
Hormonal Fluctuations: Pregnancy triggers significant hormonal changes, particularly an increase in estrogen and progesterone levels. These hormones can lead to an increase in oil production, causing acne and breakouts for some women.
Hyperpigmentation: Due to hormonal changes, some pregnant women may experience hyperpigmentation, commonly known as the "mask of pregnancy" or melasma. Dark patches may appear on the face, particularly on the cheeks, forehead, and upper lip.
Stretch Marks: As your belly expands to accommodate your growing baby, the skin may stretch, leading to the development of stretch marks on the abdomen, breasts, and thighs.
Skin Sensitivity: Pregnant women may find their skin more sensitive and prone to irritation due to increased blood flow and changes in skin barrier function.
Why Rethink Your Skincare Routine:
During pregnancy, what you put on your skin can potentially be absorbed into your bloodstream and affect your baby's health. It is crucial to be mindful of the skincare products and ingredients you use to ensure the safety and well-being of both you and your little one.
Skincare Ingredients to Avoid:
Retinoids (Retinol): High doses of retinoids, commonly found in anti-aging products, are best avoided during pregnancy, as they may be harmful to the developing baby.
Salicylic Acid: While low concentrations of salicylic acid found in some skincare products are generally considered safe, it's best to avoid high concentrations and peels during pregnancy.
Hydroquinone: This skin-lightening ingredient is best avoided during pregnancy, especially for treating hyperpigmentation, due to potential risks to the baby.
Formaldehyde and Phthalates: Skincare products containing these chemicals should be avoided, as they have been associated with adverse effects on fetal development.
Chemical Sunscreen: The verdict on the safety of some chemical sunscreens like oxybenzone is still out, so try mineral-based sunscreens that protect the skin by forcing the UV rays to bounce off of the skin entirely.
Skincare Ingredients to approach with caution:
While many skincare ingredients are generally considered safe during pregnancy, it's essential to exercise caution and consult with your healthcare provider or dermatologist before using any new products. Here's an overview of the mentioned skincare ingredients:
Azelaic Acid: Azelaic acid is often used to treat acne and hyperpigmentation. Limited data are available on its safety during pregnancy, so it's best to avoid using azelaic acid unless specifically recommended by a healthcare professional.
Alpha Arbutin: Alpha arbutin is a skin-brightening ingredient commonly used to address hyperpigmentation. There is limited information on its safety during pregnancy, so it's best to avoid using it during this time.
Kojic Acid: Kojic acid is another skin-lightening agent that can help with hyperpigmentation. Its safety during pregnancy is uncertain, and therefore, it's advisable to avoid using products containing kojic acid during this period.
Tranexamic Acid: Tranexamic acid is sometimes used to treat melasma and hyperpigmentation. The safety of tranexamic acid during pregnancy is not well-established, so it's best to avoid using it unless prescribed by a healthcare professional.
Glycolic Acid: Glycolic acid is a type of alpha hydroxy acid (AHA) often used for exfoliation and treating acne. While there is limited evidence of systemic absorption, it is typically considered safe to use topically in low concentrations during pregnancy. However, it's best to use it under the guidance of a healthcare provider.
Peptides: While peptides are generally considered safe, everyone's skin and pregnancy experience is different. Some women may have heightened skin sensitivity during pregnancy, and it's always a good idea to perform a patch test before using any new products on a larger area of the skin.
Skincare Ingredients to Embrace:
During pregnancy, it's essential to prioritize safety when it comes to skincare ingredients. While some ingredients are best avoided during this time, many others are considered safe and can provide benefits for expectant mothers. Here are some pregnancy-safe skincare ingredients:
Hyaluronic Acid: Known for its excellent hydrating properties, hyaluronic acid helps retain moisture in the skin, promoting a plump and youthful complexion.
Glycerin: A gentle and effective humectant, glycerin attracts moisture to the skin, keeping it hydrated and supple.
Aloe Vera: Renowned for its soothing properties, aloe vera is safe to use during pregnancy and can help calm irritated or sensitive skin.
Vitamin C: A potent antioxidant, vitamin C brightens the skin, boosts collagen production, and helps protect against free radical damage
Niacinamide (Vitamin B3): Niacinamide is a multi-functional ingredient that can help improve the skin's texture, minimize pores, and reduce hyperpigmentation.
Green Tea Extract: As an antioxidant-rich ingredient, green tea extract helps protect the skin from environmental stressors and has anti-inflammatory properties.
Chamomile: Known for its calming and anti-inflammatory properties, chamomile can be beneficial for soothing sensitive or reactive skin.
Coconut Oil: When used in moderation, coconut oil can provide gentle hydration for the skin.
Shea Butter: Rich in emollients, shea butter helps moisturize and nourish the skin, making it soft and supple.
Oat Extract: Oat extract has anti-inflammatory and soothing properties, making it suitable for sensitive or itchy skin.
Bakuchiol: This is considered a pregnancy-safe skincare ingredient. Bakuchiol is a natural plant-derived compound that has been gaining popularity as a gentler alternative to retinol. It offers similar benefits to retinol, such as improving skin texture, reducing the appearance of fine lines and wrinkles, and promoting collagen production, without the potential risks associated with retinoids during pregnancy.
Mineral-based sunscreen: These ingredients include zinc oxide and titanium dioxide. Always remember your protective accessories such as sun hats and sunglasses.
Always patch-test new products and introduce them one at a time into your skincare routine to ensure compatibility with your skin
In general, during pregnancy, it is recommended to opt for gentle, pregnancy-safe skincare ingredients and avoid using products with potential risks or uncertain safety profiles. Instead, focus on a simple skincare routine with ingredients known to be safe, such as hyaluronic acid, glycerin, aloe vera, and natural oils.
Again, it's essential to consult with a healthcare provider or dermatologist to ensure that the skincare products you use are safe and suitable for your specific needs during pregnancy. Your healthcare provider can provide personalized guidance based on your health and any unique considerations you may have.
Conclusion:
Pregnancy is a time of wonder and joy, and your skin deserves the utmost care during this incredible journey. As a dermatologist, I recommend rethinking your skincare routine to ensure the safety and health of your skin and your baby. Avoiding harmful ingredients and embracing gentle, pregnancy-safe products will help you maintain a glowing and radiant complexion. Always consult with your healthcare provider or dermatologist for personalized advice and recommendations tailored to your unique needs. Celebrate the beauty of pregnancy and cherish every moment with your little miracle.
For all your pregnancy skincare needs, visit our store of finely curated pregnancy-safe ingredients as well as skincare essentials that are pregnancy safe
Wishing you a safe and happy pregnancy journey! 💕

Keep glowing and stay amazing