There is a reason why Niacinamide is a skincare diplomat. Niacinamide gets on with every skincare ingredient. It does not oppose or conflict and therefore a perfect companion as an add-on and part of your skincare layering.
I may receive a commission should you wish to click on the link and decide to purchase. However, this has no bearing on my research, skin knowledge, reviews, or comparison as I only opt for products that I truly believe in, and personally have tried and tested or use, which in my professional knowledge believe to deliver their claim.
Many brands have incorporated Niacinamide in their cocktail of products. So let's delve deeper into the power of Niacinamide.
Understanding Niacinamide:
Niacinamide, also known as vitamin B3 or nicotinamide, is a water-soluble vitamin that plays a crucial role in maintaining healthy skin. Extracted from foods like meat, fish, nuts, and green vegetables, niacinamide offers a multitude of benefits when applied topically. Here's what makes niacinamide an essential addition to your skincare routine:
Regulating Oil Production:
Niacinamide possesses remarkable sebum-regulating properties, making it a go-to ingredient for oily and acne-prone skin. By regulating oil production, niacinamide helps prevent clogged pores, reducing the occurrence of breakouts and promoting a clearer complexion. The La Roche Posay Pure Niacinamide 10 Serum is suitable for all skin types, including oily, acne-prone, and rosacea-prone skin, La Roche Posay Pure Niacinamide 10 Serum has been dermatologically tested and specifically developed for sensitive skin. With an invisible finish and a non-sticky, non-greasy texture, the powerful serum has been clinically proven to correct visible dark spots and prevent their reappearance
Benefits of La Roche Posay Pure Niacinamide 10 Serum:
Reduces the appearance of dark spots
Evens skin tone and regulates sebum production
Helps to retain the skin's natural moisture
Minimizing Pore Appearance:
Enlarged pores can be a source of frustration for many, but fear not! Niacinamide can come to the rescue. This superstar ingredient has been found to tighten and minimize the appearance of pores, giving your skin a smoother, refined look.
Allies of Skin Prebiotics & Niacinamide Pore Refining Booster is formulated with silver, ribose, ATP, chlorella, and coenzyme Q10 to combat worn-out skin, enhance skin wellness, and encourage a radiant glow, Allies of Skin Prebiotics & Niacinamide Pore Refining Booster is also enriched with centella asiatica, goji berry, licorice root, and pomegranate extract to increase skin firmness.  With an antioxidant-rich formula, the lightweight multitasker deals with the root cause of imperfections refines the appearance of pores, and strengthens the skin barrier.
Benefits of Allies of Skin Prebiotics & Niacinamide Pore Refining Booster:
Reduces the appearance of pores and imperfections
Brightens skin
Strengthens the skin barrier
Enhancing Skin Barrier Function:
A strong and healthy skin barrier is essential for maintaining optimal skin health. Niacinamide fortifies the skin barrier by boosting the production of ceramides, lipids that help retain moisture and protect against environmental aggressors. A strengthened skin barrier leads to improved hydration, reduced sensitivity, and better overall skin resilience.
opt for Medik8 Clarity Peptides, a  lightweight and milky texture of this serum works to nourish, soothe and clarify skin with a combination of soothing active ingredients including 10% Niacinamide, Crystalide peptide, and Zinc PCA to support skin's natural luminosity, soothe redness and minimise blotchy skin.
Benefits of Medik8 Clarity Peptides:
Lightweight, soothing & skin perfecting serum
Formulated with 10% Niacinamide, Crystalide peptide & Zinc PCA
Supports skin's natural luminosity, soothes redness & minimises blotchy skin
Suitable for all skin types & adjusts to skin's individual needs
Nourished & translucent skin
Brightening and Even Complexion:
Say goodbye to dull, lackluster skin! Niacinamide is a true skin-brightening hero. It inhibits the transfer of melanin within the skin, helping to fade dark spots, hyperpigmentation, and uneven skin tone. With regular use, niacinamide promotes a more radiant, even complexion.
PCA Skin Vitamin B3 Brightening Serum reduces the appearance of dark spots and uneven skin tone. With an advanced formulation, PCA Skin Vitamin B3 Brightening Serum inhibits melanogenesis to effectively brighten dark spots and even skin tone.  The skin brightening serum improves skin barrier function and reduces skin discolouration, redness, and glycation-related skin yellowing.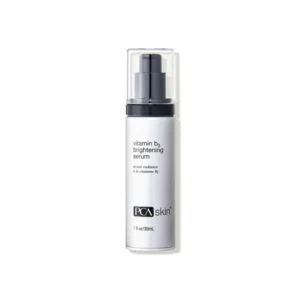 PCA-Skin-Vitamin-B3-Brightening-Serum
Benefits of PCA Skin Vitamin B3 Brightening Serum:
Brightens dark spots and evens skin tone
Minimises age-related skin yellowing and dullness
Reduces redness of the skin
Antioxidant and Anti-Aging Effects:
Niacinamide is a potent antioxidant that helps protect the skin from damage caused by free radicals, environmental pollutants, and UV radiation. This shields the skin from premature aging, including the appearance of fine lines, wrinkles, and sagging. By incorporating niacinamide into your skincare routine, you can combat the signs of aging and maintain a youthful complexion.
SkinCeuticals Metacell Renewal B3 is a corrective moisturiser that helps to visibly reduce the appearance of photo ageing for a reclarified skin tone and retightened surface.
Benefits of SkinCeuticals Metacell Renewal B3:
Increased cellular turnover renews the skin
Reduces the look of discolouration and redness
A lightweight texture that provides intense hydration
To harness the full potential of niacinamide, consider the following Skincare tips:
Choose the Right Products:
Look for skincare products, such as serums, moisturizers, or toners, that contain a sufficient concentration of niacinamide (ideally between 2-10%). Ensure the product is from a trusted brand and free from potential irritants or harmful additives.
Patch Test:
Before applying niacinamide to your entire face, conduct a patch test on a small area of skin to check for any adverse reactions, especially at concentrations greater than 10%. This step is especially important if you have sensitive skin.
Introduce Gradually:
If you are new to niacinamide, introduce it slowly into your routine. Begin by using it a few times a week and gradually increase the frequency as your skin tolerates it well. This allows your skin to adapt and prevents potential irritation.
Layering with Other Products:
Niacinamide plays well with a variety of other skincare ingredients. It can be layered with antioxidants, hyaluronic acid, and retinol to enhance their effects. However, avoid combining niacinamide with products containing vitamin C, as they may cancel each other out.
Consistency is Key:
To reap the maximum benefits, be consistent with your niacinamide usage. Apply it both morning and evening after cleansing, followed by your moisturizer. Allow it to fully absorb before proceeding with additional skincare steps.
Conclusion:
Niacinamide has earned its place as a skincare superhero, offering a wide range of benefits for all skin types. From regulating oil production and minimizing pores to brightening the complexion and combating signs of aging, this versatile ingredient has much to offer. Embrace the power of niacinamide and watch your skin flourish with a renewed radiance and vitality. Make room in your skincare routine for this skin-smart superstar, and let it work its magic for a healthier, more beautiful you.
Keep Glowing And Stay Amazing