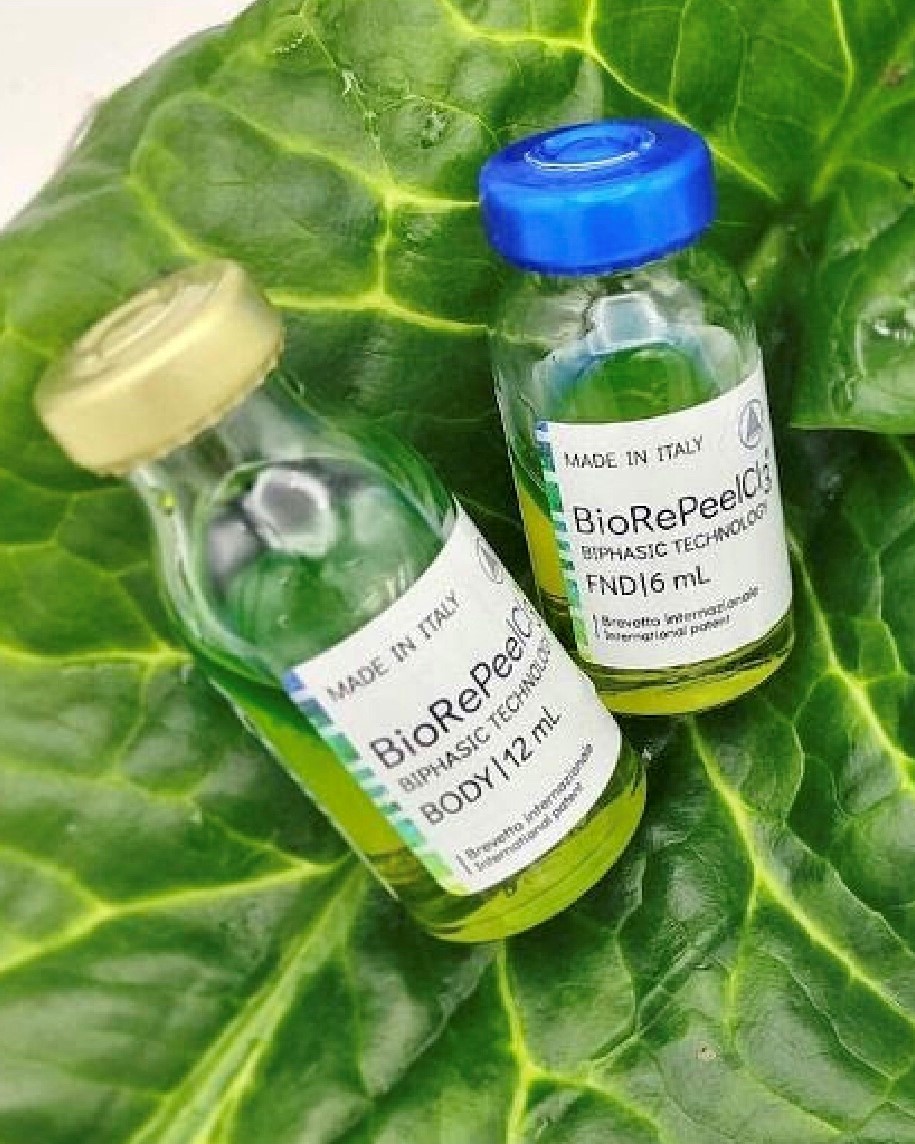 Biostimulation Revitalization Peeling (The No Peel Peel)
This Peel is like no other.
The BioRePeel is an innovative, two-phase clinical peel. It has bio-stimulating, revitalizing, and minimal peeling action, hence the name BioRePeel. So in essence, it does what it says on the tin. It enhances cellular turnover and collagen stimulation to combat skin ageing and sun damage.
A course of four treatments is needed for optimal results which is performed 2 weeks apart.
Perfect with other treatments such as radiofrequency, microneedling, dermaplaning, skin booster injections, anti-wrinkle injections and LED light therapy in the same session.
All treatments include a hydrating mask, LED light therapy, and post-treatment skincare
This peel is packed with essential amino acids and vitamins. It also contains 35% of TCA for the face, neck, and decolletage and 50% for the body such as the back and buttocks which makes this a phenomenal peel.
There is no downtime
It shrinks pores and improves the texture of the skin
It tackles skin ageing and softens wrinkles.
Evens skin tone, adds glow, and smooth out skin
It is amazing for acne-prone skin and acne scarring
It is amazing for keratosis pilaris
How is the treatment performed?
A full medical consultation will be undertaken prior to any treatment to assess your suitability
Your face will be cleansed & a skin assessment will be performed
The product is applied and massaged into your face with minimal discomfort
It is removed with plain water off leaving you with glowing skin.
medical skincare and SPF is applied
Aftercare will be discussed at length during the in-depth consultation
I also combine this peel with other treatments in the same session to really wow your skin.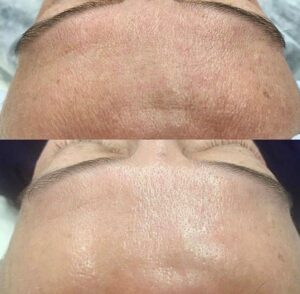 What are the benefits of the revitalizing peel?
BioRePeel can be used for the face, neck, decolletage, and body
There is no downtime
It exfoliates, removing dead skin cells and encouraging the skin to regenerate
It shrinks pores, improves the texture of the skin, and promotes epidermal thickening
It tackles skin ageing, softening wrinkles, and adding turgidity
Unifies skin tone, adds luminosity, and smooth cutaneous imperfections.
Lightens and attenuates pigmented lesions, providing a depigmenting effect
Reduces the manifestations of acne, and improves the appearance of scars with its anti-microbial and anti-bacterial properties
It is fantastic for acne and acne scarring
It is amazing for keratosis pilaris
Suitable for all skin types
Amazing for acne-prone and skin as well as acne scarring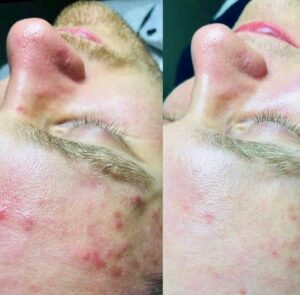 Who should not use this peel?
BioRepeelCl3 is contraindicated with the following condition
Diabetes
Kidney disease
Skin cancer
Cancer
Keloid scarring
Autoimmune disorders
Pregnancy or breastfeeding
Retinoid use such as Roaccutane (Wait six months
Blood disorders (hepatitis, HIV)
Dermatitis
Who should use it with caution?
After an in-depth consultation, I would be able to assess suitability if you have the following
Allergies
Cold sores
Eczema/Psoriasis/dermatitis
Burns/skin grafts
Tattoos/moles/warts
Gluten intolerance
Lactose intolerance
Medications: antibiotics/steroids/blood thinners
Do different peels work on different levels of the skin?
Chemical peels can penetrate at different depths depending on the type of peel and the desired outcome.
BioRepeelCl3 is a deep TCA peel that penetrates through the top five layers of the epidermis to the uppermost layers of the dermis. It is unique in that it has minimal downtime and gets back to day-to-day life immediately.
However, this peel is medical grade and therefore must be performed by a suitable medically and clinically qualified trained professional who understands skin and is able to assess skin concerns and benefits to harm.
Can have this peel to treat my body?
Absolutely; there is a BioRepeelCl3 formulated especially for the body to deliver outstanding results for the body.  It is suitable for neck, decolletage, and hands. elbows, arms feet, and buttocks.
How many sessions are recommended?
A minimum of 4-6 treatments 10-15days will demonstrate impressive results
Maintenance monthly treatments are recommended to ensure that the skin is vibrant
Can peel treatments be combined with other treatments?
Combination treatments are my passion to really address your skin concerns and tailor-make the treatment that is right for you.
So, it is fantastic to see that this peel is well suited combined with other medical aesthetic treatments such as; mesotherapy, radiofrequency, botox, dermal fillers, skin boosters, microneedling and so much more.
Where Can I Get BioRePeel Skin Peel Treatment in London?
Finding the best skin peel treatment for yourself can be complicated. However, here at DermRefine, you can find a variety of skin treatment options including the latest addition to our portfolio – BioRePeel skin peel treatment. Visit us at our Mayfair, London clinic, or contact us and schedule a consultation.
What do I need to know before having the peel?
Avoid the following:
Exfoliating agents for 48hours prior
AHAs, BHAs, retinol, self-tans for 7 days prior
Waxing, hair removal, or bleaching for 14 days prior
UV or sun exposure for 14 days prior
What do I need to know after having the peel?
Avoid makeup if possible
AHAs, BHAs, and Retinol for 14 days after
Waxing, hair removal, or bleaching for 14 days after
Sunbeds, swimming, Sauna & self-tan for 14 days after
10% off new direct bookings
Book your treatment today
Price Guide: 
All BioRepeel CL3 treatments include a Beta rejuvenating Mask and LED light therapy

A course of four BioRepeel CL3 treatments is required for optimum results. 

BioRepeel CL3 Face neck and Decolletage 

Course of Four 

£150

£500

BioRepeel CL3 with Microneedling 

Course of four 

£250

£870

BioRepeel CL3 with Skin Booster Injections  

Course of four 

£270

£980

BioRepeel CL3 for Body 

Course of four 

£180

£680