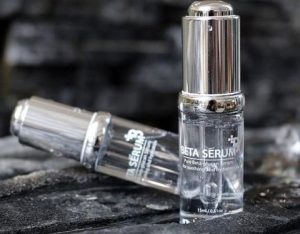 There are many reasons why beta-glucan is far superior to hyaluronic acid in skincare and a go-to ingredient to complement skincare treatments.
There are skincare lines that incorporate the use of hyaluronic acid to deliver exceptional skin hydration, some of which I may receive a commission should you wish to click on the link and decide to purchase. However, this has no bearing on my research, skin knowledge, reviews, or comparison as I only opt for products that I truly believe in, personally have tried and tested, which in my professional knowledge believe to deliver their claim
If you have never come across the name "hyaluronic acid" where on Earth have you been? We know, that hyaluronic acid is a powerful skin hydrator.
However, did you know, that there is a new kid in town giving hyaluronic acid a run for its money?
Most of us know that hyaluronic acid is a powerful humectant that locks in hydration and prevents moisture loss. However, there is a new kid in town that is set to be a rising star giving hyaluronic acid a run for its money.
Meet beta-glucan, a close relative of hyaluronic acid.
Beta-glucan may not be on everyone's lips right now, whereas Hyaluronic Acid rolls off our tongues
SO, WHAT IS BETA-GLUCAN?
Beta-glucan or better known as beta-glucans are polysaccharides that essentially are multiple sugars, starch, and cellulose bonded together.
These are found in yeast, bacteria, fungi, seaweed, and grains like oats and therefore, safe to ingest or applied to the skin depending on their formulation.
In essence, just like hyaluronic acid, beta-glucan is also a sugar molecule that is proving to be a strong contender to win the skin prize.
Aside from its outstanding moisture properties, this amazing ingredient helps reduce the appearance of fine lines and wrinkles, redness, and irritation.
For years, beta-glucan has been studied by scientific and medical researchers for its ability to support the immune system and even as a potential anti-cancer therapy.
THE BENEFITS OF BETA-GLUCAN
SUPER MOISTURE
We all know that hyaluronic acid has moisturizing effects on the skin.
However, hyaluronic acid is a water-retaining module and not a water-generating module.
In essence, when applied to the skin it cannot penetrate deep into the skin unless injected with a dermal filler used to replenish the loss of volume, contour, and shape of the face.
Instead, it grabs water from the surrounding environment and holds on to it. You may notice that in dry climates with little water content in the atmosphere, your skin can actually feel dry.
Studies have shown that beta-glucan is 20% more hydrating than hyaluronic acid at the same concentration.
Beta-glucan is a powerful humectant, which means not only provides intense hydration for the skin but it also helps to prevent moisture loss!
However, unlike hyaluronic acid, beta-glucan forms a thin film on the skin when applied to lock in moisture.
But wait! It gets better, beta-glucan also holds on to water after it has penetrated deeply into the skin. So, unlike hyaluronic acid, Beta-glucan hydrates from the inside out.
WHAT DOES THIS MEAN FOR YOU?
Beta-glucan can penetrate the skin into the epidermis and dermis, balancing the skin from the inside out.
Studies have also shown that it is so effective at boosting and protecting the skin barrier function making it a savior for dehydrated, cracked skin conditions.
VERSATILE AND SKIN-FRIENDLY  
Beta-glucan is suitable for all skin types including acne-prone skin due to its bacteria-fighting properties, It is clinically proven to significantly reduce redness, speed up the acne healing process, and soothe irritated skin.
It's also fragrance-free and colour free which makes it a firm favorite with both women and men.
This oil-free serum works to instantly restore radiance and boost skin hydration, giving you a healthy supple complexion.
POWERFUL ANTI-INFLAMMATORY 
Beta Glucan has a soothing effect calming the skin down thereby reducing redness. This is an ideal product to use after an exfoliation procedure and skin resurfacing treatments.
OUTSTANDING ANTI-AGEING 
Just like hyaluronic acid glucan not only firms the skin but also promotes the synthesis of collagen to rejuvenate and tighten the skin.
Studies have shown that on average, beta-glucan can increase the synthesis of collagen up to 32% thereby reducing the depth of wrinkles and diminishing fine lines.
I love using a beta-glucan mask to complete many of the treatments that I perform to super infuse, hydrate and calm the skin. the treatment.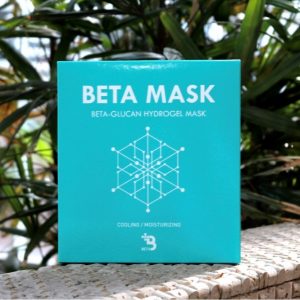 Both serums and masks that I use in my clinic to complement the treatments that I provide are available to purchase.
Get in touch for more information and to place your order.
A WORD OF CAUTION
Not all beta glucan formulations are born equally.
Our extensively researched pharma-grade formulation is derived from nature and powered by science. Every detail is thought out with precision to ensure that it delivers results.
All in all, everyone can benefit from using beta-glucan as it is suitable for all skin types, even the most reactive and sensitive skin.
Incorporating beta-glucan into your skincare menu with the right tools  is the ultimate win-win for your skin.
Tried and tested options
If you are looking for a surge of moisture in a mask that incorporates beta glucan then opt for the Simple Simple 5-minute Reset Hydrogel Mask packed with skin-loving ingredients. This is
100% hydrogel hydrating face mask

A 5-Minute face mask that delivers 40 days' Worth of moisturiser

Instantly skin feels soft, smooth, and fresh

Intense hydration that helps protect against daily aggressors

Hydrogel sheet mask with plant collagen and pentavitin
What's more, it is a clear hydrogel mask that can complement an LED light therapy mask for added rejuvenation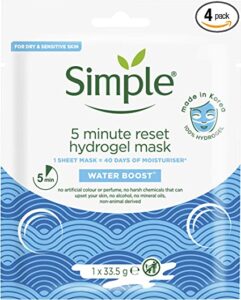 However, if you are looking for a sheet mask consistency, then, why not opt for the WIS Hyaluronic Acid Full Face Facial Mask with Aloe Vera to calm and hydrate your skin?  Its fragrance-free, alcohol-free, paraben-free, and cruelty-free formula with plant extracts makes it non-irritating. Suitable for men and women for deep hydration, dullness, fine lines, and wrinkles. What's more, it is suitable for all skin types.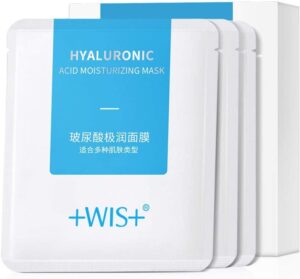 For more information and for the latest updates follow me on Instagram  https://www.instagram.com/dermrefine_skin_clinic/
Love the beauty within and love the skin that you are in.
Stay amazing x