Combining the right skincare ingredients can add tremendous value to your skin. However, it is important that this combination complement rather than conflict with one another.
This post was written as a result of numerous questions that I get asked in the clinic and therefore, it was appropriate to capture the questions in this post in the same format that they are asked. I believe that they are a reflection of what many of you would want to know
We are all familiar with the saying that together we are stronger. Superheros and power couples have shown this, you only need to look at some of the dynamics of Batman and Robin. Antman and Wasp, Beast and Wonder Man, and Captain America and Iron Man appreciate the results of their teamwork.
The same applies to skincare. In skin care, a single hero ingredient may be powerful but, when paired with the right component the two can be a force to be reckoned with to super your skin to a flawless finish.
Some of the links that I place are affiliate links. I may receive a commission should you wish to click on the link and decide to purchase. However, this has no bearing on my research, skin knowledge, reviews, or comparison as I only opt for products that I truly believe in, personally have tried and tested or used, which in my professional knowledge believe to deliver their claim
So let's take a look at some skincare ingredients when teamed together, can work wonders in combination
Salicylic Acid and Niacinamide
Reason: 
The combination of these skincare ingredients is ideal for clear healthy skin.
Salicylic acid is a beta hydroxy acid that helps to exfoliate the skin removing dead skin cells from the surface of the skin and preventing the clogging of pores.  It removes excess oil and debris. In addition, it removes blackheads, addresses pimples, and shrinks pores.  Its anti-inflammatory properties reduce redness and irritation.
On the other hand, Niacinamide reduces sebum production and pore size thereby improving the overall texture of the skin.
What's more, its soothes redness and irritation. When used together there is a compounded benefit for acne-prone skin.
These two combinations are perfectly formulated in cleansers. One of my go-to cleansers is the IS CLEANSING COMPLEX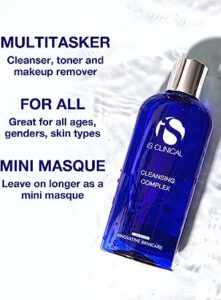 It is the Iin clinic product of choice to cleanse my patients prior to treatment and it is also available to be purchased for home use.
What I love about this formulation is that it delivers a micro-facial with every cleanse.
Retinoids and Niacinamide
This is an ideal skincare combination to avoid irritation of the skin
Reason:
Retinoids are the gold standard in anti-ageing skincare as they are backed by numerous scientific evidence.
They increase cellular turnover, boost the production of collagen maintain the firmness of the skin, fight free radical damage and increase the production of glycosaminoglycans AKA hyaluronic acid, however, they compact the stratum corneum which is the dead outer layer of the skin which may lead to irritation and dryness especially when the treatment is initiated. Combining Retinoids with Niacinamide which is a form of vitamin B3 will address the dryness and irritation of retinoids as it increases the level of free fatty acids, ceramides, and cholesterol thereby healing the skin and reinforcing its barrier.
The NeoStrata Potent Retinol Complex is the perfect introduction to retinol and certainly one of my favourites as well as my patients. it contains 0.3% Pure Retinol – a form of the powerful antioxidant Vitamin A, retinol is one of the go-to ingredients to reduce the appearance of wrinkles, sun damage, enlarged pores, and more. A dermatologist-loved ingredient, retinol increases skin turnover, so you continually slough off dull cells to reveal healthy, more radiant skin below. Retinol also works to target collagen, which helps to reduce the appearance of fine lines and wrinkles.
4% Niacinamide – helps to reduce the appearance of age spots
The product is also formulated with  2% NeoGlucosamine – known to visibly firm skin, NeoGlucosamine works to gently exfoliate your skin to help smooth the look of fine lines and wrinkles whilst improving the appearance of photo-aged skin. In addition to Centella Asiatica (Tigergrass) – this botanical antioxidant works to soothe and balance reactive and dehydrated skin whilst adding protection against drying environmental aggressors.  What's more the addition of  Hyaluronic Acid, a potent humectant, serves to deliver plumping hydration to your skin.
Benefits of NeoStrata Potent Retinol Complex:

Nourishes and hydrates skin
Reduces the appearance of fine lines and wrinkles
Reduces the appearance of age spots
Fragrance-Free
The retinol serum is suitable for dry, normal, and oily skin types, and is ideal if you want the powerful anti-ageing benefits of retinol whilst minimising the potential for irritation.
Another member of the retinoid family is Retinaldehyde with less irritation than retinol, this ingredient is gentler on rosacea and sensitive skin. Medik8 Crystal Retinal is 11 times faster in action than retinol and serves as the perfect combination with Niacinamide.
Retinol and SPF
A combination of skincare with SPF is paramount throughout the day
Reason:
As retinol facilitates cellular turnover, it may be more exposed and risk to UV radiation therefore sun protection is paramount throughout the year as UV rays can penetrate even on a cloudy day and even through the glass of the windows.
It is always recommended that you use your retinoids at night as sunlight can degrade and deactivate them, in addition, cellular turnover occurs whilst we are sleeping and therefore this will synergize with the action of retinol to achieve cellular renewal.
For lightweight formulation check out the Heliocare SPF 50 Gel which soaks straight into the skin so doesn't leave a white residue like other sunscreens. The advanced formula mineral and non-mineral filters combine to provide long-lasting, high-strength protection against UVA & UVB rays. The unique Fernblock complex – natural fern extract rich in polyphenols and flavonoids – combines with green tea extract to offer potent antioxidant protection against harmful free radicals. Meanwhile, Ultrasomes protect and repair our precious cell DNA and Sunspheres increase the effectiveness of the UV filters.
Benefits of Heliocare SPF 50 Gel:
Lightweight formula

Non-comedogenic and water-resistant

Non-comedogenic/acnegenic

Perfect for all skin types

Ideal for men
For total mineral protection opt for Heliocare 360 Mineral Tolerance Fluid SPF 50 which is formulated with 100% physical filters, this unique sunscreen is suitable for sensitive or intolerant skin types and protects against UVA, UVB, HEV and IR-A damage.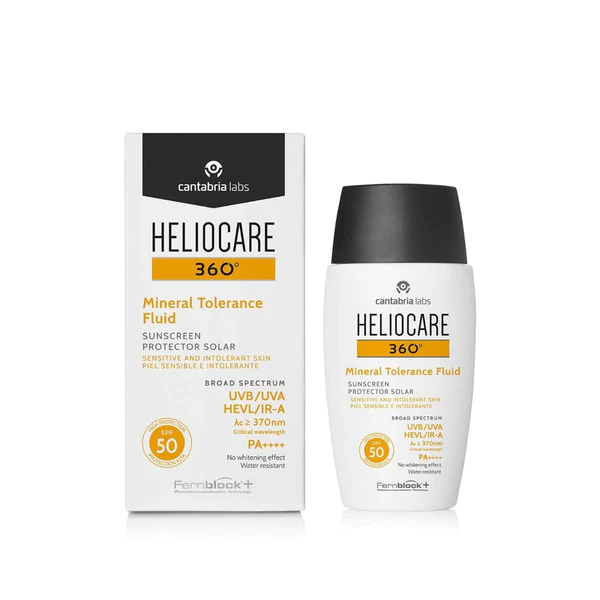 Heliocare 360 Mineral Tolerance Fluid SPF 50
Heliocare 360 Mineral Tolerance Fluid SPF 50 also provides skin protection against the daily environmental challenges the skin faces, helping to prevent premature skin ageing.
Retinol and HA and Ceramides
This is an ideal skincare combination.
Retinol can be combined with moisturizing ingredients such as hyaluronic acid and ceramides. Perfect formulations are found in eye creams utilising the use of retinaldehyde with Niacinamide and HA to deliver anti-ageing results around the delicate eye area without irritation.
Reason:
 Humectant ingredients such as hyaluronic acid are water-retaining molecule, therefore, draws water and hold on to it hydrating the surface layers of your skin, while oil-based emollient ingredients such as ceramides help seal in moisture. They are, therefore, ideal to counteract the drying or irritating effects of retinol on the stratum corneum.
A prime example is Medik8 Crystal Retinal Ceramide Eye Cream, This gentle-release vitamin-A formula has been specially created to be used around your delicate eye area and works to smooth, lift, and brighten the skin around your eye contour.
For more information on retinoids and their skin benefits check out my post 'Should be using retinol'?
Vitamin C plus Vitamin E plus Ferulic Acid.
An essential skincare combination to further stabilise vitamin C
Reason:
Aids in the production of collagen which in turn maintains skin firmness
Combats free radical damage by happily donating its electron to the free radical sparing the skin from being robbed and damaged.
It brightens skin and diminishes the appearance of dark spots.  Vitamin C as L ascorbic is highly unstable therefore adding Vitamin E and or Ferulic acids stabilizes the vitamin C increasing its longevity. Vitamin C is a water-soluble molecule whilst Vitamin E is a lipid-soluble molecule. Their penetrations into the skin utilize different stages to ensure a more effective neutralization of free radicles.
It goes without saying that one of the most established global formulations is SkinCeuticals C E Ferulic, a powerful antioxidant serum that can be used as the maximum anti-ageing skincare. It protects this skin from free radical damage and oxidative stress.
Formulated with 15% pure vitamin C (L-Ascorbic Acid), 1% vitamin E (alpha-tocopherol) and 0.5% ferulic acid, this powerful multi-antioxidant serum works to protect the skin from free radical damage and oxidative stress, the factors that lead to premature ageing.
Benefits of SkinCeuticals C E Ferulic:
A powerful multi-antioxidant formula
Protects skin against environmental damage
Antioxidant Vitamin C Serum for normal, dry & ageing skin
This powerful antioxidant serum works to protect skin against environmental damage – the triple antioxidant protection gives up to 48% less oxidative damage in the skin* from free radicals caused by factors like pollution, metal, and UV, to keep it radiant and youthful.
The blend of vitamin C, vitamin E and ferulic acid in this serum works far better than any single antioxidant alone, improving the appearance of multiple signs of ageing.
For a more affordable option explore Eneomey Daylight C20 which is Supercharged with a stabilised form of Vitamin C, this moisturiser helps to preserve cells from skin ageing, helps the body fight aggressions and promotes the assimilation of iron while protecting and revitalising the skin on a daily basis. It is expertly formulated with Vitamins C, A and E along with Glycolic and Phyto Acid to help reveal a brighter complexion while reducing the appearance of spots and pigmentation.
Benefits Of Eneomey Daylight C20:
Your skin is radiant and protected from external aggressions
Helps neutralise free radicals to prevent premature skin ageing
Boosts skin's radiance
Vitamin C plus Broad Spectrum Sunscreen
Reason:
Vitamin C has a sun protection factor of 4-5 and when combined with SPF is a powerhouse though not a substitute for sunscreen.
Check out my post on the importance of using sunscreen throughout the year 
AHA/BHA with moisturizers
It is important to ensure that this skincare combination is implemented to avoid excessive dryness and irritation of your skin.
Reason:
BHAs such as salicylic and AHAs glycolic acid must be complemented with moisturizers to avoid the drying effects of the acids It is worth. If your skin is oily and acne-prone, use an oil-free moisturizer to add back hydration that could be stripped away.
AHA AND BHA with SPF.
These acids can sensitise the skin and therefore adopting this skincare combination maintains your skin health.
Reason:
Alpha hydroxy acids (AHA) such as mandelic acid and glycolic examples have water-soluble properties and act to dissolve the bonds between the dead skin cells thereby exfoliating and resurfacing the skin reducing the appearance of fine lines and wrinkles, addressing acne scars, and even skin tone
Beta hydroxy acids (BHA) such as salicylic acid an oil-soluble acid that penetrates beneath the skin surface eliminating excess sebum, and unblocking pores making it an amazing ingredient for acne-prone skin.
Alpha hydroxy acids like glycolic acid can increase the risk of sun damage and pigmentation and therefore it is vital to apply sunscreen with a minimum sun protection factor of 30. In fact, sunscreen should be applied every day.
Want to learn more? Head over to Etre Vous  for useful tips on healthy glowing skin
Keep glowing and state amazing